(When I was in jail once, I could only sustain myself with my imagination. Pandemic social distancing feels similar, yet as necessary as fighting for the earth. We do it for each other because we care for each other. So this is for all my friends that are feeling trapped right now. We can imagine a better world where nature is still sacred. Take the trip without leaving home. Savor the earth.)
A two foot long green snake slithers across my path and I instinctively recoil. I have climbed down into a secret canyon near Moab, Utah and am scrambling through the dense brush of a creek bed. I listen for ground squirrels to warn me of rattlesnakes. This is a perfect hunting ground, but I am look for a way to cross this beautiful little creek without getting my boots wet. I decide that the snake is a good sign and follow it.
Wandering in these canyons is a child's dream of play and exploration. Anything is possible, from seeing wild burros to golden eagles to sheep, and also green snakes. I feel lucky to have found water in the desert, though I've gotten better at spotting seeps and drips from the canyon walls. This creek is something else, full from the last snowmelt and runoff from a recent storm. Too little water or too much water in the desert can kill you. This creek is just right. Mni Wiconi.
My impromptu destination is a side-canyon a half-a-mile across on the other wall. I've spotted a dark rust colored slab of rock on a cliff face and know from other hikes that these are the perfect spots for petroglyphs. I jump across the creek getting only one foot slightly wet and scramble up to the canyon floor.
Each level of the canyon represents another micro-climate. While the creek side was filled with dead grass, new green shoots and overhanging shrubs, the floor of the canyon is dry desert. Sand in the washes, coyote and salt brush in the draws, Mormon tea in the sparse shade of pinions.
I move slowly in the desert, stopping every now and then to look and listen. The sky is bluer than it deserves to be. Heat is building.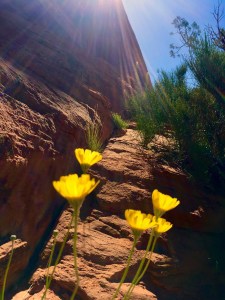 I round a bend in a three foot sand wash I am following toward the canyon wall and look up. I squint again and shade my eyes, and there on the rock face is an extensive petroglyph. I feel some childish excitement. A treasure. A message from the past? I look for a way up the cliff face to get a closer look. I am careful and plan each move, but am aware that I am less agile than when I was 40, and remind myself of the risk. My experience tells me getting down is sometimes harder than climbing up so I check each reach. But there I am, hanging on a narrow ledge next to a beautiful panel.
There are two people, a family, several sheep and what appears to be an elk. The ancients once lived here, perhaps in wetter times, but they moved out of this valley between 900 and 1,200 AD. The same fate likely awaits us as climate change dries up the west and marches relentlessly north and east. I sit on the ledge and look out across the valley trying to imagine what life was like here so long ago. A little while later, I find an ancient calendar that marked the change in seasons with shadows along the cliff face. I look at it and think we are running out of seasons.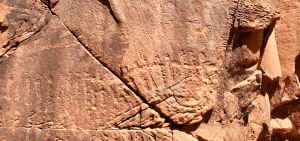 But for me, this has been a good day.
'We are all connected. Savor the Earth!'™
Hobie,
L. Hobart Stocking
SkyWaterEarth.com
hobart@skywaterearth.com
651-357-0110
Facebook: @SkyWaterEarthConnected
Twitter: @SkyWaterEarth